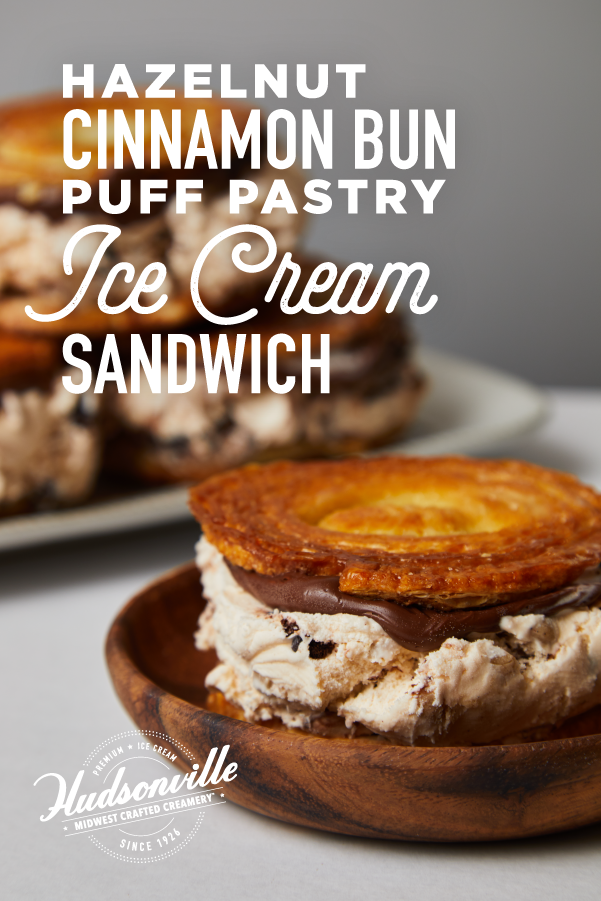 We're starting 2019 with some sweet news! Our brand new Limited Edition Hazelnut Cinnamon Bun ice cream is starting to appear on grocery store shelves (use our Scoop Locator to find it at a store near you).
Made with cinnamon bun-flavored ice cream, a ribbon of rich hazelnut fudge and cinnamon bun pieces, this is one flavor you won't want to miss! So, be sure to keep an eye out for it at your local grocery store and grab a carton (or two) before it's gone.
Enjoy it by itself, add your favorite toppings or make an ice cream sandwich using the Hazelnut Cinnamon Bun Puff Pastry recipe we came up with below.
Ingredients
4 sheets of puff pastry
1 1/2 tablespoons of sugar
Chocolate hazelnut spread
48 oz container Hudsonville Hazelnut Cinnamon Bun ice cream – softened
Directions
1. Sprinkle some sugar on a work surface and cover it with a puff pastry sheet.
2. Next, sprinkle additional sugar evenly over pastry sheet and roll it out into a 10-inch square.
3. Then, fold in two opposite sides of the pastry sheet square so the sides meet in the center. Fold in the same sides of the pastry again. Fold one half of the pastry over the other, and cut the pastry crosswise into 1/2-inch-thick slices.
4. Dip cut sides of each piece in sugar and arrange cut side down on an ungreased baking sheet.
5. Repeat with the three remaining pastry sheets.
6. Bake palmiers in batches in the middle of the oven until golden on bottom (about 12 minutes).
7. Flip and bake until golden on bottom (5 to 7 minutes more), and then transfer to a rack to cool completely.
8. Coat one palmier cookie with a generous layer of chocolate hazelnut spread, and add a scoop of softened Hazelnut Cinnamon Bun ice cream from Hudsonville Ice Cream.
9. Lastly, top with an additional palmier cookie and freeze 1-2 hours until solid.